On 11 January 2019, the University of Oslo (UiO) hosted the first meeting of the Peder Sather Center's Norwegian Advisory Board since UiO assumed leadership of the consortium.
At this meeting, Dean Professor Sten R. Ludvigsen (UiO) was formally elected as head of the Norwegian Advisory Board. The Secretariat consists of Senior Advisor for Research, Gøril Mellem (UiO) and Special Advisor for Management Support, Svein Hullstein (UiO).
Rector Svein Stølen (UiO) took part in the beginning of the meeting and informed the Board about his successful trip to Berkeley, California to visit the Peder Sather Center this past autumn. (Stølen's blog entry about that trip can be found here, and the full program of that event is available through this link.)
Further, and in conjunction with this meeting, the partners at the Peder Sather Center expressed that they are ready to begin the process of renewing the current program agreement for the period from 2020 to 2026.
The meeting took place at the University of Oslo's Domus Academica (Urbygningen/Kollegiaværelset) Karl Johans gate 47, Oslo.
The next Peder Sather Center meeting will be that of the Executive Committee hosted in Berkeley, California on 20 May 2019.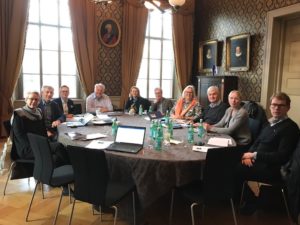 Pictured from the left: Anne Halvorsen (University of Agder)

Olav Bolland (Norwegian University of Science and Technology)

Svein Hullstein (University of Oslo)

Sten Runar Ludvigsen (University of Oslo)

Hilde Bjørnland (Norwegian Business School)

Øystein Johnsen (Norwegian University for Life Sciences )

Liv Duesund (Peder Sather Center, UC-Berkeley)

Gunnar Christensen (Norwegian School of Economics)

Margareth Hagen (University of Bergen)

Espen Dahle (University of Bergen)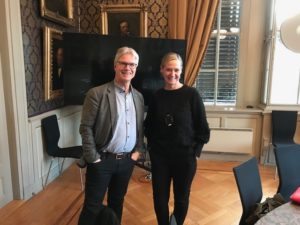 Øystein Johnsen (Norwegian University for Life Sciences) and
Gøril Mellem (University of Oslo)